Tehda, the simple todo list, has released version 3.0, which answers popular demand by including a homescreen widget, for a quick at-a-glance view of your todo list.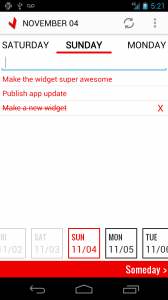 Tehda is an Android client for TeuxDeux, the simple, designy todo list.  Your list is always synchronized between the Tehda app on your phone and the TeuxDeux.com website.  All the TeuxDeux features you love, including the simple interface, drag-and-drop organization, and the "someday" list are included.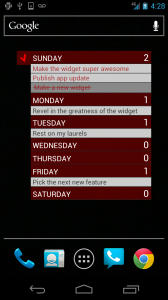 New in Tehda version 3.0 is a homescreen widget.  At a glance, see your upcoming tasks, and a count of tasks for each day.  Users on Android 2.3 and older can only see their first upcoming task, due to a limitation on widgets in the older versions of Android.  You'll always know what's coming up with the Tehda widget on your homescreen.
Check out Tehda in the Google Play Store today, and see why other users have given it a 4+ star rating, saying "Flawless!!!", "Love it! Love it!" and "This is the best todo app I have found".