I'm not sure what happened in the last two weeks, but I got directly contacted by three different companies.  All three have third-party Android markets, and they wanted me to participate.  That's all well and good; I have a moderately successful freeware app, so I'm getting used to companies emailing me out of the blue to tell me about their Android-related products.  Two of these companies started with short email pitches of why I should participate, and left the ball in my court to act.  I'm not going to name these companies here, so that their names aren't associated in any way with what comes next.  When I found some time, I looked at what they had built, read through their developer agreements, and signed up.  Win-win.
Appslib, on the other hand, is wildly unprofessional.  Here's the first email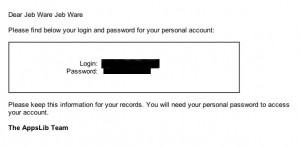 Well that's interesting, I certainly didn't sign up for any account on my own.  I would have remembered that.  I'll just ignore them and hope they go away.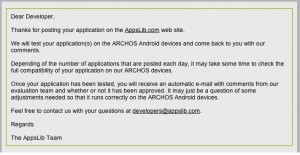 Thanks for posting my application?  I didn't post a thing.  This is getting pretty pushy.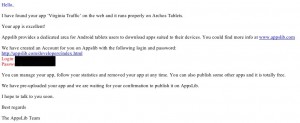 Huh. I'm glad to know my app runs on tablets, even though I didn't ask for it to be tested.  At least they're waiting for my confirmation to publish the app.  Let's just search their listings to be sure.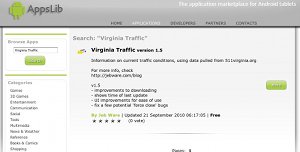 Nope.  They lied again.  They stole my app and published it without my consent.  Well, they have a Twitter account and it's active, so I'll tweet at them asking what gives….
Crickets…
No response on the twitters.  I guess they just don't care.  They've already put my app out there, as though I had signed up with them (I didn't), agreed to their Developer Agreement (I didn't) or published my app to their market (I didn't).  With dishonesty like this throughout their business, I'm going to assume that the whole thing is a fraud, and recommend to other developers and to consumers to steer clear of Applib, they'll probably steal from you, too.
Please let me know if this happened to you, too.  We need to fight back on this.  Publishers can't just take our hard work and do with it as they please.  It's theft.  And it's wrong.