Are you the type who keeps your todo list as a simple list? You've tried other apps but you don't want to waste time setting categories, priorities, color codes, and the like.
Try TeuxDeux. It's a simple, designy, todo app that presents your todo list as just that. A list.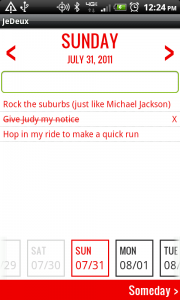 Changing the "due date" of an item is as simple as dragging it from today's list, to tomorrow's.  Changing "priority" is a simple as dragging your most important todo to the top of the list.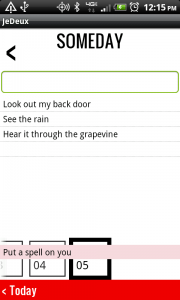 If you like TeuxDeux and you're an Android user, try JeuxDeux, the best way to use TeuxDeux on Android.  Buy it from the Android Market today.
Scan this QR code from your Android phone to find JeuxDeux in the Market
[or click here to learn about QR codes]